Blog
Check out our new service available for you!
The industry we are involved in: games, tabletop, comic books, is always changing and never faster then now. It takes a lot of constant adjustments to keep up let alone get ahead of the trends. At Kapow we are trying to stick ahead and have made some changes already. We've cut lines, picked up others and concentrated on areas we think will keep an LGS alive, namely becoming an experience.
Great event space and providing gamers and hobbyists with superb experiences are number one. We've seen GIGANTIC growth in this. Dungeons and Dragons has increased to two nights and we could easily run a third if we chose. Our Learn to Play Monday nights have been becoming more popular. Minis gaming, especially Warhammer 40k have seen explosive growth. Just half a year into carrying the product and we are running league events with sixteen players. And that's not counting the Age of Sigmar players, Shadespire, etc. Plus we have continuous weekly X-Wing, Flames of War and Guildball play.
Keeping with the ever changing industry we are working on some other projects. The one we can talk about is rented shelf space ala consignment boutiques like our awesome neighbour Purple Hippo. While we are still finalizing details and will release them soon, this will be amazing for collectors and creators in between cons and expos. You'll simply rent space monthly on our shelves and sell your product: toys, comic books, etc. We will have rates for both shelf space and for space for your comic boxes. You set the prices and your items get constant looks. It will be cheaper then most shows you do, but much longer! We will host all the transactions, with a small up charge for the customer when using credit/debit to cover machine and transaction fees. Pay attention to this space for more news shortly!
As well we have some really big events in the works. Free Comic Book Day will be our biggest ever. We've teamed with our awesome friends at Valiant Comics and will have our logo on one of their books! Plus we are working with local shops to make this a whole block party of fun! We are also working towards a fall event, hosting a massive miniatures and tabletop weekend with tourneys, demos and open play for a whole weekend in a larger venue. We've run similar events (Coulee Carnage) pre-Kapow and look forward to doing it again!
Every Wednesday is new comic book day! You can save on your books by starting a subscription file. Keep it in good standing and get 10% off! You can save further with a prepaid subscription! With your credit card on file, we ring in, bag and board your books and get them ready for easy pick up. On top of the convenience you'll get 20% off!
Check out some of the new books starting this week and some fun one-offs!
BARACK PANTHER VS TREMENDOUS TRUMP #1 (OF 1) BLUE and RED VARIANTS
CAPTAIN MARVEL #1
CRIMINAL #1 (MR)
STAR WARS AOR JANGO FETT #1
WEB OF VENOM UNLEASHED #1
YOUNG JUSTICE #1
And of course, all the ongoings!
AVENGERS #12
BATMAN #62
BATMAN #62 VAR ED
BLACK ORDER #3 (OF 5)
BUBBA HO-TEP & COSMIC BLOOD-SUCKERS #5
CURSE OF BRIMSTONE #10
DEATHSTROKE #39 (ARKHAM)
DIE #2 CVR A HANS
DOCTOR WHO 13TH #3 CVR A ISAACS
DOMINO #10
DREAMING #5
GREEN ARROW #48
GREEN LANTERN #3
HARLEY QUINN #5
JUSTICE LEAGUE #15
MAN WITHOUT FEAR #2
MAN-EATERS #4
MARTIAN MANHUNTER #2 (OF 12)
MILES MORALES SPIDER-MAN #2
NIGHTWING #56
OBLIVION SONG BY KIRKMAN & DE FELICI #11
PUNISHER #6
RED SONJA #25 CVR A MCKONE
RICK & MORTY VS DUNGEONS & DRAGONS #3 (OF 4) CVR A
SPIDER-GWEN GHOST SPIDER #4
STAR WARS #59
SUICIDE SQUAD BLACK FILES #3 (OF 6)
TEEN TITANS #25
THOR #9
UNBEATABLE SQUIRREL GIRL #40
UNCANNY X-MEN #9
X-23 #8
TRADE PAPERBACKS AND GRAPHIC NOVELS!
Piles of both new and restocked books including a piles of Miles Morales!
ALIENS VAMPIRELLA HC
AMAZING SPIDER-MAN EDGE OF SPIDER-VERSE TP
AMAZING SPIDER-MAN WORLDWIDE TP
BATMAN THE LONG HALLOWEEN TP
FENCE TP VOL 01
GWAR ORGASMAGEDDON TP
HELLBOY OMNIBUS TP VOL 01 SEED OF DESTRUCTION
HELLBOY OMNIBUS TP VOL 02 STRANGE PLACES
HELLBOY OMNIBUS TP VOL 03 THE WILD HUNT
HELLBOY OMNIBUS TP VOL 04 HELLBOY IN HELL
ISOLA TP VOL 01
MILES MORALES ULT SPIDER-MAN ULT COLL TP BOOK 01
MILES MORALES ULTIMATE SPIDER-MAN TP VOL 01 REVIVAL
MULTIPLE MAN TP IT ALL MAKES SENSE IN THE END
SAGA TP VOL 01
SAGA TP VOL 02
SAGA TP VOL 03
SPIDER-MAN DEADPOOL TP VOL 01 ISNT IT BROMANTIC
SPIDER-MAN MILES MORALES TP VOL 01

SPIDER-VERSE TP
VISION TP VOL 01 LITTLE WORSE THAN MAN
VISION TP VOL 02 LITTLE BETTER THAN BEAST
WOLVERINE OLD MAN LOGAN TP VOL 10 END OF WORLD
And of course, a few cool toys!
VENOM LEGENDS 6IN AF ASST
And this isn't the entire list of great stuff coming in. Be sure to come in Wednesday for New Comic Book Day and check out everything on our shelves!
What, indeed, is High Bridge?
At it's core, High Bridge is a home made, completely original campaign based on and inspired by the online style of RPGing called West Marches.
High Bridge is a living world. Your actions matter. Time progresses. There is permanency. When you defeat Golgarathanack The Red Dragon, Golgarathanack is dead. No respawns. When your character dies and can't be brought back, a brave new adventurer comes to High Bridge. One group won't be doing the same adventure as another. They might be working in the same area towards a similar goal, but it won't just be the same pre-written adventure. Everything is unique. This is a world created by Dungeon Masters and Players alike.
The basic story is a old, forgotten land has been re-discovered on the other side of a dangerous, foreboding mountain range. The call has been made to settlers and adventurers to join the founders and their investors in making a new land their own.
Again, the theme here is "Your actions matter."
Players will show up on game nights and see what's on the board. It's the Fort's "Help Wanted" post. Perhaps a dog went missing. Maybe a shipment is late. Maybe goblins have been spotted, or something large in the forest or something dark of wing flying near the mountains. Or maybe someone just wants you to clear out the area and make it safe for settlers. Also different then normal Adventurer's League is the sense of "campaign". Nearly all adventures will be one night and done. If you can't finish, it's assumed you've come back to the fort to restock and heal and rethink how to finish the objective. Or maybe you went and did something either way out of your reach (level 1's finding trolls) or way too easy (do the high levels really want to go clear a barn of a couple stirges?). This is where the sense of community comes in. The adventure goes back on the board and you can let the appropriate friends know about something they can do.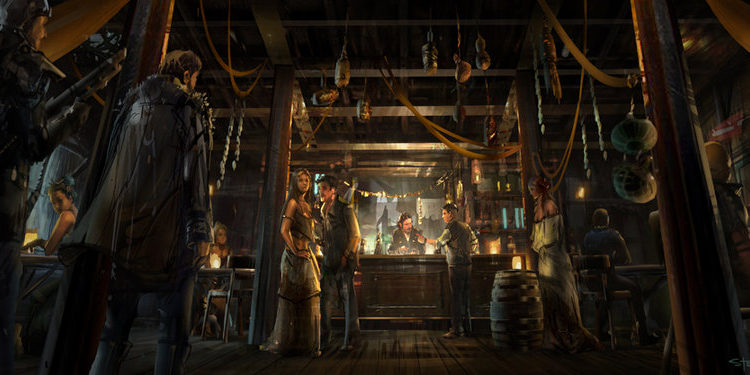 This doesn't mean there won't be fun events happening. They will. Trust me. We have some amazing ideas in mind.
Basically, TLDR: This is a tabletop MMO without respawns.
This is completely unique, untried and basically a first as far as we know it. We are putting on a grand experiment and everyone's invited. Your input and activity matters. You get as much back as you put in. This, on paper and in our head, seems to be the perfect way to run an open "come and go as you please" style of in store organized play role playing. Let's hope we're right!
See you in High Bridge!