Gaming with friends is my favorite way to ring in the New Year, and has become a family tradition! I have some favorites to share, and some new ones I want to try. Here's my list of my top recommendations for this year's New Year's Eve gaming get-togethers:
Machi Koro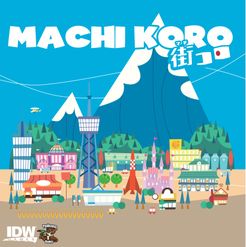 Machi Koro has become our number one New Year's Eve tradition. We usually play this right until midnight, pausing only to shout "Happy New Year!" and clink our glasses (before quickly getting back to the important business of winning, of course). Machi Koro is a fun, all-ages game of strategic investing, played with cards, dice and coins. It is similar to Monopoly in that you buy properties to win, but there the resemblance ends. This is a much faster paced game with a much shorter play-time, and every player is involved with every turn. Am I the only one who kept Monopoly games going for hours, until all eyes were glazed over? Well, you can't do that with this game – the game is won the moment a player purchases four key properties. And let me tell you, it can be a close game, so you'd better make sure you are up for another round!
2. Codenames Marvel
The title of this one could have just said 'Codenames'; there are multiple versions of this game, and all of them are a blast to play! Codenames Marvel is one I am dying to try, because it would make my entire holiday to be able to beat my husband (Captain America himself!) at a round. Codenames is a game of word association, strategy, and spies. It is fun, easy to play and learn, and you will be able to play this game over and over. There is even a co-operative version: Codenames Duet, where you play against the game as a team. This might be a good option for the romantics out there, while the rest of us keep our cutthroat competition!
3. Drinkopoly
Okay, okay, I do realize that this is going to be the second time I'm mentioning Monopoly. But trust me, this is no ordinary Monopoly. As you can probably guess from the title, this is an adults-only game with a party twist. A citrus twist on the edge of a cocktail glass kind of twist! This is a fun game to either start or end the night, and can be a good way to get even non-gamers in the group having a blast with a board game. And of course, please game responsibly!
4. The Resistance
This is an award-winning party game with spies and intrigue, and one that I have been wanting to play for far too long. You'll need a group for this (5-10 people), and hopefully they are all the suspicious types. One of the really nice things about this game is that no one is 'out' until the end, so no one is bored or sitting on the sidelines. Instead, throughout the whole game every player gets to be either a spy or an operative, help complete (or sabotage) missions, and everyone gets to join in the fun at the end when there is a big reveal. Viva la résistance!
5. Pyramid Poker
Pyramid Poker is a game for two, so it is perfect for a couple's night in. It is also great for when you have a large group and need to split into smaller ones. This is a fast game, so you can play one round or many! There are two parts: first you build a pyramid, turn by turn. Then you build poker hands, and try to beat your opponent by getting pairs, straight, flush; All the poker hands you would get with cards, you build here with blocks. There is an element of chance, as well as strategy, so while it is easy to pick up and learn, it only gets better when you play it again and again. Time to perfect your poker face!
6. Sushi Go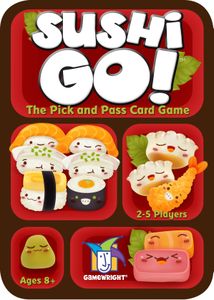 Sushi Go is another one of those family friendly, all ages games that you will end up playing until two in the morning with your all adult buddies. This is a card game to play with a group, and doesn't require that players can read so you can play with little kids (or adults who forgot their glasses). The art is adorable and whimsical, the rules are easy, and there is enough luck and strategy both to keep everyone interested. It is also a fast game, so easy to pick up and play anytime! And don't worry – you don't have to like sushi. You can even be a vegetarian and still love this game, like me!
7. Bears vs. Babies and Exploding Kittens
This is actually two games, but they have a lot in common and they both crack me up, so I'm wrapping up this list with both of them at once. Both are card games with a hilarious, somewhat morbid, sense of humor. In Bears vs. Babies you create monster-bears who eat babies. In Exploding Kittens you play a card-game version of Russian Roulette, except instead of bullets you have kittens, and instead of a gun firing you get a kitten exploding. Fun, right?! These are seriously hilarious games that are a ton of fun to play – no better way to 'game in the new year'!
So that was my list! I meant to make it a 'Top 5' list, but I just couldn't stop at only 5 (and made myself stop before this got really out of hand). I would love to hear what games would make your Top 5, and what games you play on New Years Eve, and which new games you plan to try. Please join in by commenting below, or on our Facebook, Twitter, or Instagram.
Happy New Year! Hope everyone has a blast with games this New Year's Eve, and all throughout 2018!